I've seen Anna Karenina a couple of weeks ago already and didn't want to write about it at first, because there's not much to say about it. Anyway, it's this strange time between Christmas and New Year's Eve, so if you're catching up with movies you can try this one.

If you're looking for glorious costumes, magnificent set designs and amazing scenes - you'll find them in Anna. Although if you're looking for something more in a film, you'll be disappointed. As one may expect, the huge Tolstoy's novel was degraded to only one thread ("Anna Karenina" isn't actually a romance book).
Spoiler: one great solution was making a film look like it was taking place in a theater, on a scene - though I'm not sure what is has to do with a book...?

Anyway, go and enjoy the costume design (I swear, one day I'll buy a dress with a frame and will wear it every day!) and the great music.

Ps. Cara Delavigne has to practice acting.
Ps2. Ok, so now I'm getting to the point: I was prejudiced since I've hear Keira will be playing the role of Karenina. She's obviously pretty and stars in a lot of historical movies but in my opinion she's one of the worst actresses at the moment. She's got two faces: suffering with a slightly opened mouth and this strange, creepy smile.
"Annę Kareninę" widziałam już dwa tygodnie temu i początkowo miałam o niej nie pisać, bo nie ma właściwie o czym. Może jednak w czasie między Bożym Narodzeniem a Sylwestrem nadrabiacie zaległości i przejdziecie się na ten film?

Jeśli szukacie przepięknych strojów z epoki, pełnej przepychu scenografii oraz wspaniałych zdjęć - to w "Annie" je znajdziecie. Jeżeli jednak po filmie spodziewacie się czegoś więcej, to będziecie rozczarowani. Jak można było się spodziewać, powieść Lwa Tołstoja licząca sobie koło 700 stron została zdegradowana do jednego wątku (a to nie jest książka przede wszystkim o miłości).
Spoiler: jedynym fajnym rozwiązaniem był trik "to wszystko dzieje się na scenie, to nie film to teatr" - super zrobione, ale nie wiem co to miało wspólnego z książką...?

Polecam jednak przejść się dla kostiumów (kiedyś w końcu dorobię się sukni ze stelażem i przysięgam, że będę w niej paradować po Krakowie) oraz dla niesamowitej muzyki.

Ps. Cara Delavigne musi jeszcze poćwiczyć, jeśli chce zostać aktorką.
Ps2. Ok, przechodzę do sedna sprawy: kiedy dowiedziałam się, że w ekranizacji będzie grała Keira to od razu miałam złe nastawienie. Mimo tego, że jest ładna i często gra w filmach historycznych, uważam że to jedna z gorszych aktorek, porównywalnych do Nicolasa Cage'a. Ma one tylko dwa wyrazy twarzy: cierpienie z rozchylonymi ustami oraz nieprzyjemny uśmiech.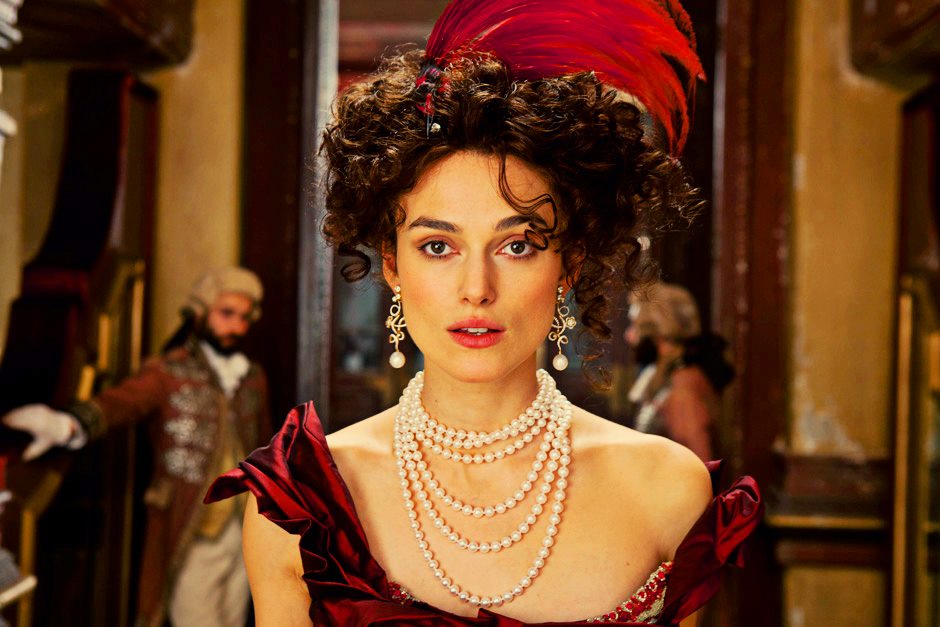 Am I the only person who doesn't like her?
Are you going to see the movie, or maybe have seen it already?
Czy tylko ja jej nie trawię?
Wybieracie się na film albo może już widzieliście?